3M is a trusted source for air conditioning and furnace filters, and has been in business for over 100 years. But the company didn't start out selling their famous 3M furnace filter. 3M is an example of how adaptability is crucial for success in the business world. Instead of accepting failure, goals were changed and victory as achieved. The five founders, Bryan, Cable, Dwan, McGonagle and Budd, incorporated their company first before discovering what they wanted to market. 3M was originally started as a mining project to unearth minerals for grinding wheel abrasives, but when that idea failed, they took the company in a new direction and investigated the use of sandpaper products. The year 1916 marked the first dividend, totaling 6 cents a share.
3M is a leader in forward-thinking and innovative alterations to their products. Through testing they were able to create the first waterproof sandpaper. 3M developers also created masking tape, and the company owns the trademark for Scotch Tape.  3M also owns the trademarks for recognizable products such as Scotch-Brite and Thermofax, as well as their own photo paper, overhead projectors, medical products and dental products all the way through the sixties. In the 1970s and 1980s, 3M expanded it's reach into the pharmaceutical industry. Post-it notes were designed in 1980, creating a new way to organize thoughts. 3M has received the Energy Star rating for 6 years in a row due to the technological advancement of their products and attention to how they affect the environment. Just this past year in 2012, 3M has developed Solar Mirror Film 1100 for concentrated solar power.
As grand as 3M's ambitions may be for technological advancement, they still sell humble products such as masking tape, Post-it notes, and a replacement furnace filter. 3M air conditioning and furnace filters are available in nearly every size, considering the company has been around as long as most furnaces have been in existence. 3M furnace filters have MERV ratings of 8 to 11. The MERV rating is important for those with allergies. The higher the MERV rating, the better the filter can capture dust and debris that agitate the respiratory system. The fibers of a filter with a high MERV rating are denser, but are also more expensive. Using a filter with a lower MERV rating might be the best economical choice for those without extreme allergies, considering filters need to be cleaned or changed every three months. 3M filters exhibit a classically pleated electrostatic design. Less expensive fiberglass filters and reusable washable filters are also available.
————————————————————————————————–
Guest post is provided by Your Filter Connection, offering a complete 3M air filter selection. Visit the website at www.yourfilterconnection.com for other brands like Honeywell and Filtrete.
During this time of year (or anytime of the year depending where you live!), it can be almost painful to not have air conditioning. However, installing a centralized air conditioner for your home or office can be ridiculously expensive. Luckily, there are now plenty of options in portable air conditioning. Portable air conditioners are incredibly convenient, versatile, energy efficient and can save you money!
Unlike a centralized air system, installation is an extremely easy job. It doesn't require a professional or a significant amount of time and effort. Installation is very simple and anyone can do it. You only have to find the right location in your home or office and an exit for the exhaust hose.
Portable air conditioners are significantly cheaper than conventional air conditioning systems. The utility bills that accompany traditional air conditioning systems can be extremely expensive. PACs are a great option for those who need to cool their home or office, but don't want to spend a lot in the process.
PACs are portable which can make them very convenient. Unlike window or wall air conditioning systems, PACs are very versatile and can be relocated within minutes. Many of them are lightweight and easy to move. That means that if one day you need air in the living room and on another day you need a computer room air conditioner, you'll have all your bases covered.
As if the mobility didn't offer enough convenience, many of these portable systems also offer bonus features. Many portable air conditioners are multifunction which means they can also serve as a dehumidifier or even a heater. Dehumidifying is a huge bonus for those that suffer from allergies. Lowering the humidity can prohibit the growth of allergens such as mold and dust mites. Dehumidification technology can also help with quick drying and protection from moisture damage.
On top of all of the listed benefits, portable air conditioners are more energy efficient than their traditional air counterparts. Centralized air is responsible for cooling the entire house which can waste a significant amount of energy. Portable air conditioners, on the other hand, simply cool the area that's necessary for the moment. The operation costs of a PAC are much lower than regular air systems.
Overall, portable air conditioners are a great option for those who are looking to save some money, cut back on energy waste, and have air in whatever area they choose.
—————————————————————————————————–
Guest post is provided by MovinCool, a leading supplier of portable air conditioner systems. Browse their website for more information.
Our world is full of things we don't even think about until something unfortunate happens and we realize how badly they are needed. A power generator is one example, after a big storm knocks out your power. Or perhaps it's the sunscreen you forgot to bring to the beach, once you see your skin starting to get pink. And while it isn't as life-impacting as the previous two examples, making sure you have doorstops in your home before a doorknob punches a hole in the wall can save you major aggravation and stress down the road.
Any person who has been startled by a slamming door or gotten frustrated as they tried to patch a puncture in the wall created by a doorknob would gladly attest to the value of a preventive doorstop. Sometimes, people have considered them, but decided they were too expensive for what they offered, or difficult to install. For individuals looking for a low-cost, construction-free doorstop option,foam protectors are up to the job as an effective and affordable doorstop.
These stopper cushions are often bone-shaped sponges with a slit cut in the middle that allows them to be slid over the edge or top of a door. These offer impact absorption from doors swinging into walls or shutting too hard into their frames. Without any installation needed, they can be popped off in a second should the door need to be closed fully.
Foam stoppers can be purchased in an affordable, ready-made shape, or created on your own for one of the easiest DIY projects you can take on. Simply take a scrubbing sponge, and cut a rectangular divot about halfway through the sponge in the center of the long side. Cutting out this area in a strip that's slimmer than the door allows enough room for the sponge to slide over any door, while being tight enough to stay in place. With its softness, sponge stoppers can quiet door slams and prevent wall damage.
The first homes built by the European immigrants of the American colonies were very simple and traditional structures.  They lacked extensive detail.  The style of the homes was known as "folk," due to their similarity to the homes in the settlers' homelands.
While all houses that were built in the Colonial Period can be labeled as folk designs, they were typically one of three styles.  There was the Cape Cod style, the Georgian style, and the Saltbox style houses.  Despite the differences in style, most colonial houses had a similar structure.  They were typically made of a wood frame and had two stories.  While there was a similar structure to all homes of the Colonial period, there was hardly strict uniformity.  The homes in every region within the colonies differed depending on the cultural heritage and nationalities of the settlers living there.
The historic Phineas Upham House is an example of the Saltbox style.  This historic landmark dates back all the way to 1703 and is revered by the National Register of Historic Places.  The Saltbox style itself began in medieval Europe.  It deemed its name "saltbox" due to the fact that it shared its shape to that of a saltbox ornament.  They tend to look slightly similar to a shed and are traditionally built with a wooden frame, accompanied by small, simple windows.
The Saltbox style home has a unique architecture with a long, pitched sloping roof.  There is a characteristically centralized chimney and one main entry way.  The Saltbox style is asymmetrical with a roof line that's usually long and slopes to the back.  Saltbox homes fall under the umbrella of timber-frame houses.  A timber-frame home involves joining a large piece of wood to joints or wooden pegs.  This style didn't usually utilize metal nails because they were considered expensive at the time.
Today, there are many great Saltbox-style historical homes still standing, which allow us to observe the architectural landscape of the Colonial era and understand more about how the early settlers lived.  The Phineas Upham House of Melrose, Massachusetts is a great time capsule of the early settlers.  Other historic homes to visit include The Thomas Lee House of East Lyme, Connecticut and The Thomas Hawley House of Monroe, Connecticut.
There are details that can turn a house into home. While there are many things that we can do to personalize a living space, such as paint, furniture, paintings and art adorning the walls, one place that is easily over looked is the very floor we walk on. It isn't to say that hand-picked carpeting or hardwood floors aren't considered. But what if you and your guests were to step through your front door and were greeted by a compass medallion inlaid into the floor of the entryway?
While we consider decorating our houses to bring life and a sense of self to the space we call home, very rarely do folks contemplate adding a touch of flair to the floor. And yet, think about that elegant hotel you once spent an evening in. And when you entered the lobby, you spied a marble medallion on the floor once you crossed the threshold. It spoke of style and good taste. It brought about a change of environment, telling you that you were someplace different then your everyday surroundings.
While homeowners do their best to improve the value of their homes, ideas such as these tend to remain out of grasp. If this were a standard feature of houses, we would call it to mind as we resumed the projects to enhance our living spaces. Yet you must admit, now that it is in the front of your mind, you might find yourself wondering what it might take to bring something like this about. The actual costs, depending upon the medium, can be quite affordable, even more so if you consider installing it yourself.
While a select few of us possess marble floors, most homeowners who wish to bring a feeling of warmth into their surroundings go with wood. And while installing a wooden medallion will require a great deal of focus and detail, that doesn't mean it needs to be labor intensive.
First, find the types of wood that will enhance the feel you wish to achieve when designing your medallion. They are precisely fit together to create a solid piece which is then attached to a plywood backing. The highest quality medallions are usually 5/16 inch thick. However, if this doesn't allow the medallion to be flush with your floor, never fear. They can be sanded multiple times to achieve the correct height. Cutting your floor with a router can be intimidating. However, most companies will provide a router template for your convenience. And finally, bed the medallion onto a layer of adhesive to the subfloor. And viola, another aspect of your home is installed for your joy and comfort.
A simple task to make your house your home.
————————————————————————————————–
This message has been provided by the fine folks at Medallion Depot, providers of stone medallions and other products to enhance your refined lifestyle
Nothing beats lounging in a warm room with a hot cup of fresh coffee and a good book on a cold winter day. It is in one of those days that you can just lose yourself in thought or utter relaxation bliss. A comfy weekend like that is good therapy for the stress and hard work we put our bodies through during the work week. Nothing breaks such excellent immersion than standing up and getting cold shock from freezing floors though.
While forced air heaters have thankfully found widespread use in most households, architects seem to have forgotten to keep the floor warm. There are commercially available tile heating systems available for your home though—these are affordable, reliable and easy to install. A floor heating system is basically a network of helically coiled thin insulated wires placed underneath your floor that heat up your tiles by passing electricity through the wires. Whether your floor is made of granite, marble, slate or ceramic tile floor heating systems can be installed for you—just make sure you do not have wood or carpet flooring because floor heaters don't work well with those!
Floor heaters can even be installed in your bathroom! You should not be worried about getting an electric shock from your floor heater because tile heating systems are designed to be fully insulated and water proof so that you can safely use them in areas that are exposed to water like the bathroom or the kitchen.
Article submitted by ETO Doors Corp.
Everyone knows that Manhattan is one of the most expensive places to live in the United States, but Brooklyn has a few neighborhoods that are now making parts of Manhattan look like the economical choice for housing.  Brooklyn Heights is one of those neighborhoods.   Originally named Brooklyn Village, the Heights was the location for the The Cosby Show, and remains true to the NBC's story format as an upper middle class neighborhood.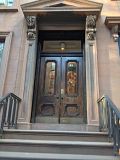 Brooklyn Heights is as quaint as it is comfortable, reminiscent of a European small town, many residents own a car, but most walk for groceries, dinner, and other family outings.  And when a trip into Manhattan is necessary, a plethora of train options exist to get you into the Financial District (FiDi) in less than 15 minutes.
Unlike many apartments in Manhattan, you may actually get what you pay for in the Heights. Brownstones and rowhouses are the typically housing structure, and if you like character, there is an abundance of the same on nearly every block of this neighborhood.  The brownstones and federal houses mostly fall within the "pre-war" classification, but have been preserved with care and accuracy to original form.  The doors are a mixture of single and double-entry ways, with the use of wrought iron designs, and painted colors as differentiators. A metal or fiberglass door in this neighborhood is a rarity; most Brooklyn Heights homes still use wood for their front doors, and given the classic appeal of the Heights, it seems appropriate to shun some modernity.
—————————————————————————————————
Eto Doors offers interior and exterior home doors, commercial doors, garage doors and more. Also visit ETO Doors Facebook page.
The hoist, at one point, was more of a device utilized within the construction industry. However, with advances brought about my modern engineering, the use of theses marvels of current technology, such as a simple hand chain hoist, can now be found in homes all across America. Look in the garage of the average weekend mechanic and you'll find a well-used hoist. But there are a few things that haven't changed with the inclusion of the hoist for home use. Whether you're using an electric device or a hand operated lever hoist, a sling can be an essential accessory.
The sling remains one of the main accessories used to move loads. From the industry of shipping lines to home use, the sling provides the most ease of use to contain a load. And yet, proper care and maintenance of the sling will help it last.
The most common type of sling is made from chains, ranging from heavy steel to lightweight alloys. And while both of these mediums can perform quite well, special care needs to be given when using alloy chains. While the alloy chains are much more lightweight, they can be fragile when subjected to sudden shifts in weight or shocks. Another thing to look for with alloy is stretching of chain links. However, this in no way removes any of the recommendation of alloy chains as a medium. For certain tasks, they can be quite helpful, especially to lighten a bearing load.
Take the extra care and inspection necessary. Bodily injury and lives may very well depend upon it. 
This message brought to you by your friends at Hoists Direct Inc., retailers of electric hoists and other fine products. Click on the hyperlink to see more!
Wrapping oneself in a soft and absorbent towel after a bath is a great delight. The primary purpose or use of bath towels is drying of the body immediately after a bath or a shower. The towels chosen for bathing purposes must be soft, fluffy, and most importantly, absorbent. The softness of the bath towel sets ensure that the body is not scratched while the fluffiness and absorbent nature ensures that the towel dries the body after a shower. Additionally, the fabric used to make the towel should also be one that allows it to dry faster.
Having highlighted the qualities that make a bath towel stand out among the rest, now we can move to propose some things that you need to look for when shopping for a bath towel. The first thing to look out for is the material making the towel. The material chosen must be soft and absorbent. Luxury bath towels are known to be cotton, soft and fluffy. Another quality worth looking out for is the size of the towel. Size really matters especially because people often like wrapping themselves in these towels after taking a shower.
This article was submitted by Home Linen. Home Linen sells a wide variety of home furnishings. Aside from selling bath towels, Home Linen also deals in Beach towels.
When it comes to modern commercial and home design, one of the most prevalent themes that have become wildly popular in the last few years has been glass fencing. Glass fencing has become immensely popular both with businessmen and home builders with good reason. A good glass fence gives an air of luxury to any given space whether it is residential or commercial. Glass fences give a touch of high-end design that is hard to achieve with any other material. Glass fences also give anyone who visits the area a sense of space due to the fact that views are not obstructed.
The pool area of commercial spaces and now even in residential spaces is probably the most common area of application for glass fences. Frameless glass pool fencing gives residents and customers unblocked view of the pool area. A pool with glass fencing looks significantly classier than other fencing options due to the fact that it gives people a sense of protection or isolation without really making them constricted or confined.
You can also get high quality 10mm semi-frameless toughened glass, and 12mm frameless toughened glass fencing in a variety of choices and configurations. In addition there are robust posts and stands for frameless and semi-frameless glass fencing options.