Written By: Better Backyards
Not all types of artificial turf are made the same. You want to make sure that you know what you are paying for before you purchase and install your artificial grass lawn and you can't do this unless you know what the different grades associated with turf mean. Doing your research is a key element of shopping for synthetic lawns but the wide range of styles, models and grades can make comparison shopping confusing.
Your first step any time you purchase artificial turf should be to find out what is the grade of the grass. Most artificial turfs will come in one of three grades:
First-Run Turf: As you can expect, this is the highest quality turf available. It will be the turf that is the highest quality product produced by a manufacturer. It will typically have an extended warranty associated with it that offers you protection in case the turf begins to wear too quickly or gets torn. You'll want to review the warranty carefully to discover what it covers. A typical warranty for artificial turf lawns covers eight years.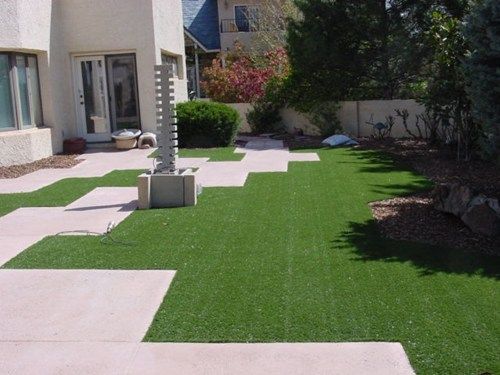 When purchasing first-run turf, make sure to get product information sheet from the reseller. This will tell you the specifications for the product so you can inspect your turf before installation to ensure that it meets the requirements. A roll of first-run turf should closely match the same that you reviewed before you made a purchase.
Factory Seconds, Overruns and Closeouts: While shopping for bargain synthetic grass online, you might see deals on "overruns" or "closeouts." While manufacturers do sometimes create too much product or decide to discontinue a model, it's more likely that what the reseller is selling are factory seconds. These are products that cannot be sold as first-run turf because of defects during manufacturing. Some of these defects may be minor and not significantly impact your use of the turf. However, you'll want to be cautious and inspect these products carefully and try to get a warranty from the reseller directly.
Used Turf: It might seem like a lot of fun to go online and purchase artificial turf previously used at a major sports venue and install as your new yard. However, purchasing and installing used turf has many downsides. Artificial turf used for sports fields is different than artificial grass for lawns, including the use of small pellets of rubber or silica as infill. Artificial sports turf also wears down quicker than home yard turf, so you will almost certainly have to replace it after a short period of time.
A construction site is inherently dangerous, and a place where proper safety protocol is a life saving issue. Managing a safe construction site isn't just good for employee health, it's good for business too. A properly managed site tends to meet budget and time constraints, with minimal losses due to injury. Some companies even opt to hire a construction consultant to be sure that the job is done properly. Follow these tips to ensure your site is safe.
Protection from Falling
Workers who work on ladders should have some form of protection from falling. Others should be in attendance, checking the ladder for stability. For jobs that are higher up, a harness may be appropriate to prevent employees from falling and injuring themselves. Aerial lifts are another solution, and may help when materials need to be moved back and forth.
Communication
When accidents do happen, it's important that employees are able to quickly coordinate and communicate with crews to get attention as soon as possible. Maintain a safety data sheet for chemicals that are in use, and have a written plan for dealing with accidents.
Final Thoughts
Construction & turnaround services perform in a business of deadlines. Sometimes, those deadlines tempt us to disregard safety in the name of doing the job quickly. In construction, you only get one chance at a mistake before problems can hurt you. Make sure you do it right the first time, taking your time to observe proper safety protocol before you do the dangerous work.
— Lyle Charles is a construction consultant and expert witness. For help litigating your construction dispute, contact Lyle Charles Consulting.
Written by MovinCool
Portable air conditioners are great solutions for specialized use where the installation of a central AC system or conventional window AC is not possible or too costly. If you have a particular space in your house that needs cooling then a portable room air conditioner could be the solution that you are looking for.
A portable AC enables you to cool just one area of your home such as a bedroom. If your house is equipped with central air, you would usually have to lower the temperature of your entire home to be able to cool just one room. Using a portable AC, you can save energy and money by cooling only the particular desired space.
With a portable AC you can target specific rooms in your home that require cooling for example the kitchen, bedroom or the computer room. This type of AC can also serve as your server room air conditioner. Computer equipment generate a huge amount of heat and are particularly sensitive to dust and humidity. This is why your home office or computer room should be maintained at a constant temperature.
Some portable ACs also act as dehumidifier and help to counter the risks of allergens such as dust mites and mold.
MovinCool is a company that sells portable AC solutions for your home and office. They also provide outdoor cooling solutions for outdoor events and portable dehumidifier for quick drying of water and air.
Are you the type of person who likes to tackle home improvement jobs all on your own? Today, people like you are known as part of the DIY—or Do It Yourself—community. Essentially it means you like saving money and learning about your home's needs by just doing things yourself. It's a great way to handle these issues for a number of reasons actually.
However, you can always improve the way you do things. When it comes to being a DIYer, one way is by using power tools to handle the work. Using power tools comes with a number of advantages.
The most obvious is it's just so much easier. Obviously, using a Kawasaki cordless drill beats using a manual one any day of the week. You really don't have to be very strong in order to get these tools to work for you.
Furthermore, you can get better precision. No matter how good your aim, focus or dedication is, you'll never get the surgical results with your hand that you can with a set of Kawasaki power tools, for example.
So as you update your tools, make sure you consider power tools.
______________________________________________________________________
If you have renovation projects you'd like to do yourself, you should head over to Toolsmith Direct in order to get the best possible deals on the tools you need to do the job. Whether you're in the market for a Kawasaki drill battery or some other essential tool, you'll find it on their website.