Gardening
Written By: Better Backyards
Not all types of artificial turf are made the same. You want to make sure that you know what you are paying for before you purchase and install your artificial grass lawn and you can't do this unless you know what the different grades associated with turf mean. Doing your research is a key element of shopping for synthetic lawns but the wide range of styles, models and grades can make comparison shopping confusing.
Your first step any time you purchase artificial turf should be to find out what is the grade of the grass. Most artificial turfs will come in one of three grades:
First-Run Turf: As you can expect, this is the highest quality turf available. It will be the turf that is the highest quality product produced by a manufacturer. It will typically have an extended warranty associated with it that offers you protection in case the turf begins to wear too quickly or gets torn. You'll want to review the warranty carefully to discover what it covers. A typical warranty for artificial turf lawns covers eight years.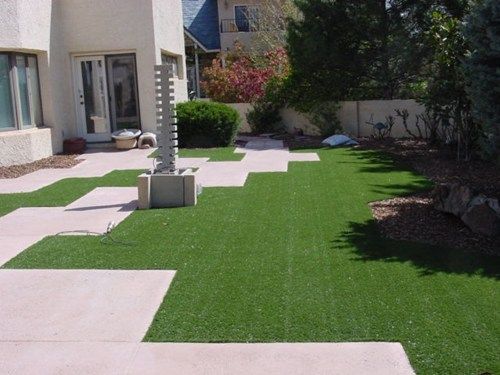 When purchasing first-run turf, make sure to get product information sheet from the reseller. This will tell you the specifications for the product so you can inspect your turf before installation to ensure that it meets the requirements. A roll of first-run turf should closely match the same that you reviewed before you made a purchase.
Factory Seconds, Overruns and Closeouts: While shopping for bargain synthetic grass online, you might see deals on "overruns" or "closeouts." While manufacturers do sometimes create too much product or decide to discontinue a model, it's more likely that what the reseller is selling are factory seconds. These are products that cannot be sold as first-run turf because of defects during manufacturing. Some of these defects may be minor and not significantly impact your use of the turf. However, you'll want to be cautious and inspect these products carefully and try to get a warranty from the reseller directly.
Used Turf: It might seem like a lot of fun to go online and purchase artificial turf previously used at a major sports venue and install as your new yard. However, purchasing and installing used turf has many downsides. Artificial turf used for sports fields is different than artificial grass for lawns, including the use of small pellets of rubber or silica as infill. Artificial sports turf also wears down quicker than home yard turf, so you will almost certainly have to replace it after a short period of time.
Lawn sprinkler systems are a great investment in our hectic society. There are so many positive things about installing lawn sprinkler systems when completing your landscape. A sprinkling system can save you on your water bill. No more turning on the sprinklers and then forgetting they are on and letting them run all day. It will also save your plants and grass when you are unable to water. Having it just come on at a scheduled time, for a set time limit allows you to not have to worry when you are gone. It also saves having to find someone and hoping that they will remember to come and take care of your watering for you.
Lawn sprinkler systems do require that you invest in some irrigation supplies. These parts are usually pretty inexpensive and are made of high quality plastics that are easy to work with and will last for a long time. Most places that sell irrigation supplies also have someone who is available to look over the design of your sprinkler system and help you get exactly the supplies that you are going to need. So to invest in your landscape make sure that you buy your irrigation supplies and get started installing lawn sprinkler systems for your yard.
Article Submited by Jef Azzio of Home and Gardens Blog
Only people who own a garden know the true pleasure of what Nature bestows on them, and since this takes a lot of work to actually get that picture perfect garden that you've always envisioned, hiring the services of a professional gardener can have its benefits.
So, here is a list of benefits:
1)      If you don't have much time on your hands, hiring the services of a professional gardener can relieve of this extra chore.
2)      In the situation where you have a 'dream garden' in mind, it is definitely advisable to hire the services of a professional gardener.
3)      Just in case, you might own or run a park or have too large a garden, this is obviously too large for one to maintain, and therefore, a team of professional gardeners can maintain it well.
4)      If you are either renting or selling your home, the immediate impression of a well-tended garden can benefit you monetarily.
5)      On the other hand, if you have just moved into a new home, then it would be advisable to hire the services of a professional gardener to do a good job before you take over.
6)      If you are elderly or have a relative who is, then it will be a good idea to hire a professional gardener as this can reduce the amount of work that they have to do to take care of the garden themselves.
And while there are some people who think of gardening as more than a chore, there will come a time when it might get a bit too much to handle.